Download a booklet:
"A Faith Worth
Thinking About"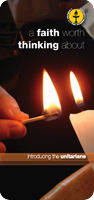 click here for a free download
Cairo Street Unitarian & Free Christian Chapel
As Unitarians our religious faith is:

PERSONAL -our own, not another's.
THOUGHTFUL - the result of thinking.
HONEST - true to conscience.
FREE - leaving room for growth.

"For where two or three are gathered in my name, there I am among them" (Matthew 18:20).

We believe that all the great religions of the world are there for the glory of God and we do not impose any creeds or doctrines on our Ministers, Lay Preachers or Congregation.

Our Ministers and Lay Preachers have the "freedom of the pulpit" and our congregation has the "freedom of the pews".

We believe in human nature, that the good in humanity is of God, and that the bad passes away. We believe in the divinity of Jesus and humanity, that we are all sons and daughters of God. We believe that the universe is planned for good. We believe in growth, that all things flow, and that no creed is final and perfect.

We worship the One God, known by many names, we look to Jesus, born of Mary, as our guide and to the Holy Bible for spiritual awakening. We look for the resurrection of the human spirit and the life of the higher world to come.

Some people say we are the most progressive Church in Warrington. A warm welcome is given to all who attend.

To be added to our newsletter list, please email: peter.mcguigan@yahoo.com
Our newsletter is published six times a year and includes information on upcoming events and activities.
---