Download a booklet:
Unitarian Views
Of Jesus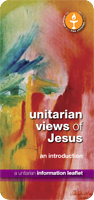 click here to download
Services
We meet on the FIRST and THIRD Sundays of the month at 10:30 am.

Ever wondered what the opposite of fundamentalist Christianity looks like? Pay us a visit to find out.

For those new to worshipping with us, Unitarianism is a Christian theological movement named for its belief that the God in Christianity is One.

"Hear, O Israel: The Lord our God is One Lord" (Deut 6:4)

We are heirs to the Free Christian traditions of our forebears. Our aim is to bring together Unitarians and Trinitarians in a creedless Church as we seek to help build the Church Universal.

We are a religious tradition that has no creed or hierarchy.

We extend a special welcome to those who are single, married, divorced, straight, gay, bisexual, transgender, rich or poor.

You're welcome here if you're just having a nosy, just got up or just got out of prison.

We welcome single mums and single dads. We welcome you if you are having problems or if you're just down on your luck.

Our divine services of worship can be viewed as a celebration of our deepest values. We see our religious beliefs as relevant to all aspects of life including the wider community.

All visitors and enquirers are made most welcome and are invited to join us for coffee, refreshments and an informal chat after the service.

Our services are led by a Minister or Accredited Lay Preacher. We also welcome Guest Preachers from different Christian denominations.

Services are held at 10:30 am on FIRST and THIRD Sundays.