Download a booklet:
"A Faith Worth
Thinking About"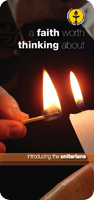 click here for a free download
Warwick Unitarian Chapel

Warwick Unitarian Chapel is a spiritual community. We encourage all our members, visitors, and friends to find a level of belief with which they feel comfortable.

We meet for worship without creed or dogma, to give thanks, and to celebrate our common bonds of friendship and fellowship.

We warmly welcome visitors of all faiths and none.


---