Download a booklet:
Unitarian Views
Of Jesus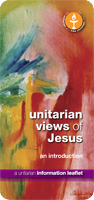 click here to download
Services
Sunday Services at Warwick Unitarian Chapel are at 4.30pm.

Friday Lunchtime Services are at 12.10 pm. (a 25 minute short act of worship).

Our services of worship are a time to give thanks, to be with others, to worship the Divine.

Most of the time our Sunday services are conducted by our Minister, and consist of a sermon, music, hymn-singing, readings, prayer and meditation.

Although the form of our services is fairly traditional, with hymns, prayers, meditations, readings, a sermon, the content of the services is distinctive: we do not recite a creed, and readings are drawn not only from the Bible but from a wide range of other sources: world faiths, science, the arts, the natural world, and everyday living. The sermon is intended to stimulate thought, not to expound an orthodoxy to which all are expected to conform.

All visitors and enquirers are made most welcome and are invited to join us for tea and a chat after the service.