Download a booklet:
Unitarian
Weddings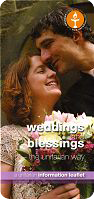 click here to download
Weddings
Our chapel is licenced for weddings and we would be happy to discuss the possibility of holding your weddings ceremony or blessing of relationship at Warwick Unitarian Chapel.

Every wedding ceremony is unique and our Minister will work with you to ensure that the ceremony reflects you as a couple. A Unitarian wedding may include some of the traditional aspects of a wedding ceremony, but couples are encouraged to create a ceremony which is right for them. Our Minister is happy to offer advice, input and support during this process. With seating for 100 people and a flexible space, our chapel offers an excellent venue for weddings.

A Unitarian wedding is about two persons making a commitment to each other, as well as bringing in some spiritual input to the occasion. Our lovely garden is available for photographs afterwards. We are able to supply a talented musician, florist, soloist etc. Please contact our Minister for a no-obligation chat.

We will usually have no problems offering a wedding a ceremony for persons who have previously been married. If and when the law is changed, Warwick Unitarians expect to offer same sex weddings.