Download a booklet:
Unitarian
Weddings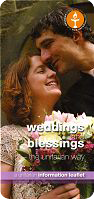 click here to download
Weddings
Many people contact us to ask if we are registered for wedding ceremonies. The answer is "Absolutely!" so do please get in touch to find out more. Our minister can offer a personalised, humanistic and/or spiritual ceremony without dogma - traditional or contemporary in feel, drawing on the best of the Christian and world faith traditions as is most appropriate.
Furthermore, Bury Unitarian Meeting House was proud to be the first religious building in Suffolk to have been registered to offer same-sex marriage ceremonies - a practical demonstration of our inclusive outlook.
So to find out more about the possibility of a wedding ceremony here, contact the minister Rev. Matt Smith: Tel: (01728) 621409 Email: revmatt@1774@outlook.com .