Activities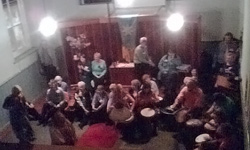 REGULAR EVENTS

New group started October 9, 2014: Spirit Healer Drums with Steve Woodford. Hoop Drum Healing Circles and Journeys with ceremony. No experience needed. Some spare drums available to play.
Second and fourth Thursday evenings of the month.
Further information, contact Steve on 07867 900475, email walkyourpath57@yahoo.co.uk

Yoga: Every Monday, 6.30pm to 8pm with Frances. Tel 248859, email fhearnden@hotmail.com. Web http://www.franceshearndenyoga.co.uk
Yoga: Every Tuesday, 7pm to 8.30pm with Lisa. Tel 07731850088.
Yoga: Every Wednesday, 6.15pm to 7.45pm with Kali. Tel 07716336910.
Come along to our recreation hall.

Satsangs & Kirtans: Created by Tarananda & Shiva.
All welcome to share a space of peace, some chanting, meditation, spiritual focusing exercises. Donations only - no fixed charge. Please feel free to invite your friends. Email enquiries to thesoulgarden@rocketmail.com

For Hire
You may hire our Meeting House / Multifaith Sanctuary, the Recreation Hall, or our smaller Meeting Room with coffee and tea making facilities.
Our very affordable prices are available on request. We presently have times available, mainly during certain weekdays but also some evenings.

Many different interest groups are welcomed and use our hall, such as:
Meditation; Yoga; Satsang, Kirtan and Mantra workshops; Trance Dance; Drumming; Peace Group; Singing; Dancing; Drama; Art and Crafts; Pilates; Healing; New Age groups, etc.

Several local societies also use our Meeting House, Hall or Lounge for their meetings. Provided that the activity does not contravene our (very broad) principles, we will be happy to try to assist.

Sunday Services @ 11am: See 'Services' page.
1st Sunday - Unitarian
3rd Sunday - Interfaith

As the only Unitarian church on the Isle of Wight we hope to strengthen our community by welcoming people of other faiths (or seekers) - anyone wishing to explore ideas - to our services and events. Please feel free to contact us with your enquiries.