Activities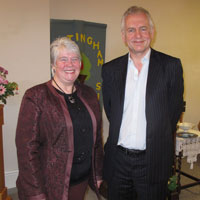 Andrew Cooper with Helen Catchpole of the Framework Housing Association who gave a talk to the congregation on 25 April about the charity's work with homeless and vulnerably housed people.
Nottinghamshire Pride
On Saturday 28th July, Nottingham Unitarians had a stall at Nottinghamshire Pride on the Forest. We took with us plenty of leaflets and back issues of our national magazines THE INQUIRER and THE UNITARIAN and lured passers-by with sweets.
Two other faith groups had stalls. The first was a group from the central Methodist church on Lower Parliament Street, who had two large gazebos put together as a cafe. The second was Nottingham Pagan Network, who ran a stall like ours and one of whose members gave a talk on a nearby stage during the afternoon.
Much of our time was spent trying to stop leaflets from blowing away as the weather was fairly breezy but we did seem to impress one or two young women, one complaining to us about her homophobic father, the other openly sceptical but willing to learn more about us. We also made contact with Nottingham Secular Society and several charities and other voluntary organisations during the course of the day, giving two copies of an anthology of prayers published by Hinckley Unitarians to the Methodists and many leaflets about The Nightingale Centre in case organisations wished to use the Centre for conferences or social events.
Zoe Bremer
We hold social events at the chapel or at the homes of our members. We also involve ourselves in wider activities in the city. Nottingham Unitarians take part in many regional and national Unitarian events and celebrations.
UNITARIAN GA MEETINGS 2012
Congregation member ZOE BREMER reports on the recent annual meetings of the Unitarian General Assembly at Keele University:
Our Annual Meetings (known as the General Assembly, or GA), took place in 2012 at the University of Keele in Staffordshire from 3rd to 6th April, with ministers' meetings starting a day earlier. Despite poor weather, including snow, delegates enjoyed their stay.
Each year our GA allows members and ministers from Unitarian and Free Christian churches around the UK (and some from further afield) to meet at a conference centre over several days and attend meetings, workshops, plenary sessions and social events. We also meet representatives of our charities and special interest groups, such as The Nightingale Centre, Unitarian College Manchester and the Unitarian Society for Psychical Studies. These groups run stalls and hold meetings or workshops.
This year, the Unitarian Society for Psychical Studies held a meeting with a talk entitled Mapping the Afterlife, an event that was very well attended, and Unitarian College Manchester offered goods on its stall in exchange for a donation which could be made via the Gift Aid scheme. The NightingaleCentre also had a stall, where visitors could buy Blue John jewellery.
Motions discussed at the conference sessions covered a wide range of subjects including assisted suicide (referred back to our congregations), legal marriage and government eavesdropping on electronic communications. On the last day, our president, Dr. Ann Peart, handed over the badge of office to Lis Dyson-Jones, who was elected at last year's GA. Writer Bill Darlison, author of The Gospel and the Zodiac, is our new Vice-President.
For details of all Unitarian congregations in the UK visit www.unitarian.org.uk.
You can also follow our activities and concerns on Facebook. Our page is called UK Unitarians.
Our Inter-Faith Work Nottingham Unitarians are affiliated to Nottingham Inter Faith Council. Unitarians in the UK work closely on many social issues with a range of other faith groups and secular organisations. In particular we have a long history of co-operation with the Religious Society of Friends (the Quakers), including the establishment of many local Philosophical Societies, including those of Birmingham and Derby, the former being known as the Lunar Society. Early members of these organisations included Joseph Priestley, Erasmus Darwin, Matthew Boulton, James Watt and families such as the Wedgwoods and the Strutts.
More recently, Unitarians have worked with Progressive (Reform and Liberal) Jewish congregations and groups such as Sufis, as well as running Mansford Street Chapel in Bethnal Green jointly with the Quakers. At local level we were involved in the planning of the Multi Faith Centre at the Universityof Derby. For more information about local Inter-Faith events please visit www.interfaithnottingham.org.uk.
International Year of Co-operatives
THIS YEAR HAS BEEN DESIGNATED INTERNATIONAL YEAR OF CO-OPERATIVES. AS CO-OPERATIVE WHOLESALE AND RETAIL SOCIETIES HAVE PLAYED SUCH AN IMPORTANT ROLE IN THE DEVELOPMENT OF NOTTINGHAM, DERBY AND ILKESTON OVER THE PAST HUNDRED YEARS, WE WOULD LIKE TO TAKE THE OPPORTUNITY TO CELEBRATE THIS YEAR.
UNITARIANS PLAYED AN IMPORTANT ROLE IN THE ESTABLISHMENT OF THE CO-OPERATIVE MOVEMENT IN THE 19TH CENTURY. IN PARTICULAR THEIR INVOLVEMENT IN ROCHDALE, NEW LANARK (NOW A WORLD HERITAGE SITE) AND STYAL (AT QUARRY BANK MILL, NOW OWNED BY THE NATIONAL TRUST), HAS BEEN NOTED BY HISTORIANS. MANY OF THE ROCHDALE PIONEERS WERE MEMBERS OF THE LOCAL UNITARIAN CHAPEL. ROCHDALE IS HOME TO THE NEWLY RENOVATED ROCHDALE PIONEERS MUSEUM.
TODAY, THE UK IS HOME TO MANY CO-OPERATIVES, INCLUDING THOSE INVOLVED IN FARMING AND INDUSTRY AS WELL AS RETAIL AND TRAVEL. IF YOU WOULD LIKE TO HELP US TO CELEBRATE INTERNATIONAL YEAR OF CO-OPERATIVES, PLEASE GET IN TOUCH WITH ZOE ON (0115) 928 2896.