History
It is believed that the Chatham Congregation was in existence by 1655. We can distinguish at that time, between the General Baptists (who believed that salvation was available for all) and the Particular Baptists (who believed that salvation was reserved for the elect). Our church was established as a place of worship by the General Baptists.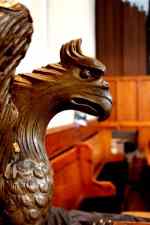 In 1802, the existing meeting house was demolished and a new builing was erected, now referred to as the 'Unitarian Baptist' chapel. This building was opened by the Revs. Sampson Kingsford and William Vidler. The Rev Vidler was both a prominent Unitarian and advocate of Universalism (the belief t hat all souls would eventually be saved).

Our present building was constructed in 1889. The cost was met by two sisters as a tribute to their late parents, John and Selina Tribe. A memorial plate to the couple can be found inside the church hall.

Our minister from 1929-44 and again from 1948-9 was the Rev Will Hayes, a visionary who promoted inter-faith co-operation. The Rev Hayes became the leader of the Free Religious Movement which sought to create 'a Brotherhood of Nations through the Sisterhood of Religions'.

Rev Will Hays also founded the Order of the Great Companions, which he hoped would encourage the emergence of an eclectic and universal world religion. Until fairly recently, Chatham Unitarian Church was actually known as the 'Church of the Great Companions' - the'Great Companions' being the vario us prophets and religious leaders of all cultures, creeds and races.