Weddings

Planning a wedding can be one of the most joyful tasks a couple undertake.

Apart from one or two legal requirements, couples are encouraged, with the help of the minister, to find the material that suits them. This way the wedding is personalised and made memorable in a special way.

On the 1st December 2015 the chapel became the first place of worship in North Yorkshire to be registered for same sex marriage.

Please contact Revd.Margaret Kirk for more information on 07946 487321
Couple first to marry at church for 15 years

(copy courtesy of the Whitby Gazette. Photographs by:xxxxx xxxxxxx)
A GOTH couple became the first people in 15 years to be married in Whitby's Unitarian Chapel. Natacha Doyle and John Bergin, both 30, were married in the chapel in Flowergate on Saturday 24 October 2009.

The service was performed by minister Margaret Kirk as the Dublin couple tied the knot in front of friends.

They picked the Unitarian Chapel as they wanted to be in control of their own ceremony.

Natacha said: "We had been looking for somewhere to get married that wasn't tied to one religion and couldn't find anywhere in Whitby so I searched for the number for the Unitarian Chapel in Dublin.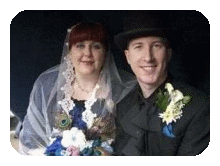 "As I was doing it I thought to myself 'maybe there is a Unitarian chapel in Whitby'."

She discovered the Old Chapel in Flowergate and was able to secure it for the wedding.

"I was surprised to learn that there hadn't been a wedding held there for 15 years," she said.

"Maybe it's because it is a bit hidden away but it was beautiful and everyone involved was great as obviously it was a bit stressful planning a wedding from Dublin."

Following the service, in which the bride walked down the isle to Annie Lennox's Love Song For A Vampire, they went to Whitby Abbey for pictures before a reception in The Met.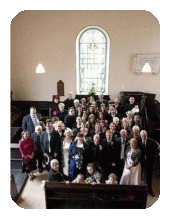 "We had our first dance to As the World Falls Down by David Bowie then showed an extremely low budget vampire film we shot in Whitby a couple of years ago," said John.

They have stayed in Whitby to enjoy the goth weekend as their honeymoon.

Margaret Hugill, secretary of the Old Chapel said it was nice to have put on a wedding again. "It had been so long and hopefully now we will get other people who want to use it.

Larger photos are available in the Photo Album