Wick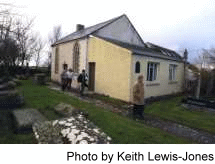 Wick General Baptist & Unitarian Chapel
Wick,
Cowbridge,
South Glamorgan
CF71 7QJ

Contact
Tel: (01656) 880862
email: lalliswales@tiscali.co.uk

The Unitarian and General Baptist chapel is small with a gallery on three sides and a small meeting room on the side. It is one of the few chapels in Glamorgan with a cemetery that is still being used. The congregation has always been small but extremely resilient.