Nottage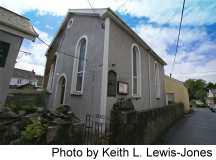 Nottage General Baptist and Unitarian Chapel
Nottage,
Porthcawl,
Mid Glamorgan
CF36 3SY

Contact
Ms Jeannie Monks
c/o Nottage General Baptist and Unitarian Chapel
Ty Canol
Nottage
Porthcawl
CF36 3SY


NOTTAGE GENERAL BAPTIST & UNITARIAN CHURCH
Formed as a worshipping congregation before 1789 Nottage Chapel is the oldest non-conformist cause in the area.
In the 18th Century, the village of Nottage became much involved in radical religious movements of the times - including the General Baptists. Early in the 19th Century, Nottage Chapel became associated with the Unitarian Assembly and continues as a home for open thought and positive action in faith. It is interesting that for more than 100 years from the 1840's the Church was served by descendants of the Rev. Evan Lloyd.
Information by Dr Beverley Littlepage - (former pastor of this chapel)
FOR HIRE


`THE OLD SCHOOLROOM`
At the Unitarian Church, Nottage, Porthcawl.
An Excellent venue for.......
Children's Parties
Keep-fit Classes
Discussion Groups etc.....
For further information - telephone 01656 772088
Views of the Chapel
All photos by Keith Lewis-Jones